SillaJen will enhance its enterprise value by enhancing its new drug research and development capabilities, said the company's top manager.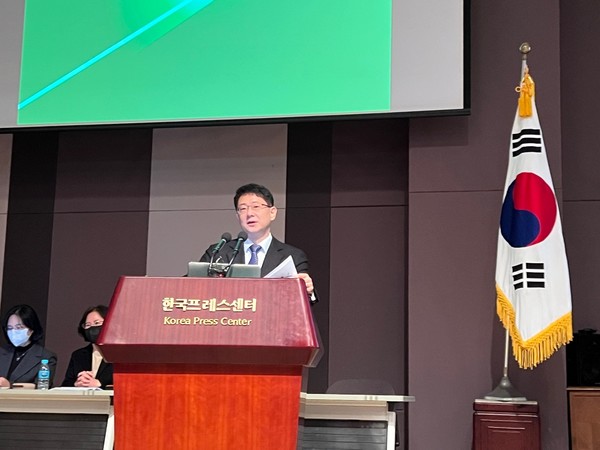 At a press conference on Tuesday, SillaJen CEO Kim Jae-kyung announced the company's current research and development status and plans after the stock resumed trading on the tech-rich Kosdaq market in October.
"In order to expedite technology transfer to multinational pharmaceutical companies, we will build a strong business model by increasing research personnel and concentrating on clinical trials," Kim said. "By expanding our R&D infrastructure and securing human resources, we will mobilize all of our strengths to increase our corporate value."
The company is focusing on the next-generation anticancer virus SJ-600 series. Dr. Kim emphasized that the SJ-600 series, when administered intravenously, can overcome the limitations of existing anticancer viruses that are susceptible to attack by blood complement.
"The SJ-600 series expresses the complement-regulating protein CD55 on the viral envelope, allowing the anticancer virus to survive stably in the blood," Kim said. "Physicians have the advantage of direct drug delivery to solid or metastatic tumors, as they can administer treatments systemically through intravenous injections."
In particular, Kim emphasized that SJ-607, part of the SJ-600 lineup, showed the same anti-cancer efficacy at less than one-fifth of other anti-cancer viruses.
"We have completed a preclinical study of SJ-607 and plan to publish the results in an international journal soon," Kim said. We plan to present relevant findings at international conferences such as the American Society of Clinical Oncology (ASCO).
Based on such achievements, the company plans to promote early technology exports as part of its future strategy, Kim added.
During the media event, SillaJen also announced in September that it will initiate a US Phase 1 clinical trial of BAL0891, an anti-cancer drug candidate whose technology was in-licensed by Swiss-based biopharmaceutical company Basilea Pharmaceutica. .
"We are recruiting patients from three US clinical sites: Mary Crowley Cancer Research, Montefiore Medical Center, and OSHU Knight Cancer Institute," said Kim. "This trial will begin at Mary Crowley Cancer Research in December.
Kim explained that the plan is to expedite phase I clinical trials to target the unmet demand for cancer drugs with novel cytotoxic mechanisms.
In the future, we plan to conduct clinical trials targeting intractable cancers such as triple-negative breast cancer (TNBC) and expand its indications to various cancer types, including blood cancer." He is also preparing to conduct clinical trials in South Korea and is in talks with his top five hospitals in South Korea. "
Kim emphasized that the company's recent R&D efforts are meant to show that the company will not repeat the same mistakes.
"Previously, we relied on a single candidate called Pexa-Vec," said Kim. "But there are so many variables in new drug development that even promising substances can fail."
He added that SillaJen will transform into a sustainable research company through R&D of various candidates rather than relying on one promising pipeline.