Mosquito threat in Dhaka's Hazrat Shahjalal International Airport area.Photo: Protom Allo
">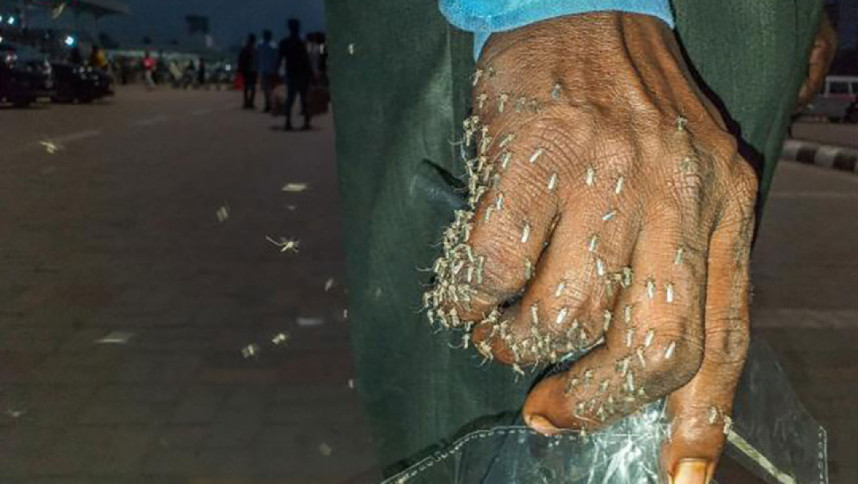 Mosquito threat in Dhaka's Hazrat Shahjalal International Airport area.Photo: Protom Allo
The High Court today condemned the Dhaka North City Corporation (DNCC) for failing to eradicate mosquitoes in the capital's Hazrat Shahjalal International Airport and surrounding areas.
"From the compliance report it appears that Dhaka North City Corporation has allocated a huge amount of money [Tk 76 crore] Various programs have been implemented to kill mosquitoes. But there is no fruitful result to this effect," the court of Justices JBM Hassan and Razik-Al-Jalil told DNCC attorney Rimi Nahreen at the warrant petition hearing.
Follow the Daily Star's Google News channel for all the latest news.
The petitioner for the warrant, lawyer Tanbir Ahmed, confirmed the matter to the Daily Star.
"People have dengue, which comes from the Aedes mosquito. They are hospitalized and they are dying every day. Why can't you? [DNCC] Get rid of mosquitoes?if you [DNCC] If it becomes dysfunctional, you can quit the office," Bench said.
The HC Bench has also ordered the DNCC, the Civil Aviation Authority and the Directorate General of Health Services to work together to eliminate the mosquito threat and to submit a report in this regard by February 15 next year.
The petition for the warrant was filed as a public interest action by Supreme Court Attorney Md Tanvir Ahmed in March 2019, seeking directions from the HC to relevant authorities to take steps to address the mosquito threat in the airport area. I was.
Following the petition, on March 12, 2019, the HC asked relevant authorities to explain why their failure to eradicate mosquitoes at the airport and surrounding areas should not be declared illegal. I issued a rule asking for.
At today's hearing, DNCC attorney Rimi Nahreen filed a compliance report before the HC on behalf of the DNCC, saying the DNCC had implemented an emergency program that included drug spraying to control mosquitoes. .
DNCC has been working with the Civil Aviation Authority and DGHS to raise public awareness and has allocated Tk 7.6 billion to eliminate mosquitoes in the capital's Hazrat Shahjalal International Airport and surrounding areas, the lawyer said in a compliance report. He told the court, citing
Petitioner Tanvir Ahmed objected to the DNCC's compliance report, arguing that the DNCC raises public awareness of the threat of mosquitoes, but that drains and ponds are filled with contaminated water and mosquitoes said public perception does not work if it is a breeding ground for
DNCC lawyer Rimi told The Daily Star that the HC had expressed concern over the deaths from dengue caused by Aedes aegypti.
She also said she had not yet received a written order from the HC regarding this matter.
Deputy Attorney General Tushar Kanti Roy represented the state at today's hearing.