Veteran Director GC Wickremasinghe has resigned from the Board of Directors of Aitken Spence & Company PLC, the organization he has held since 1972.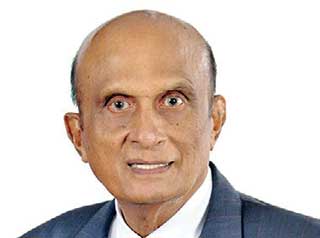 veteran director
GC Wickremesinghe
Aitken Spence yesterday announced that its independent non-executive director, Wickremasinghe, has tendered his resignation effective 30 November. He was chairman of the Compensation Committee and Nominating Committee, and was also a member of the Audit Committee and the Related Party Transactions Review Committee. He now owned 7.3 million shares in Aitken Spence.
Wickremesinghe was first appointed to the Spence Board of Directors in April 1972.
His career at Aitken Spence spans over 60 years, including being Main Board Director of Aitken Spence PLC since 1972 and Chairman in 1996/97.
After being educated at the Royal College Colombo, he joined Aitken Spence Plantation in 1954, where he worked as a professional planter for 11 years. While there, he was awarded a Colombo Plan Scholarship to study management and industrial relations at the then British Labor and National Service in England.
He moved to headquarters in 1965 and after successfully managing the real estate division expanded his responsibilities to include the management of the insurance division and Lloyd's Agency. In 1972, he established his GSA operation with Singapore Airlines.
He also worked closely with renowned architect Geoffrey Bawa to direct the construction of the Triton Hotel, now Heritance Ahungalla. He conceived and executed the renovation of the iconic His Tea Factory Hotel, one of the group's most successful hotels.