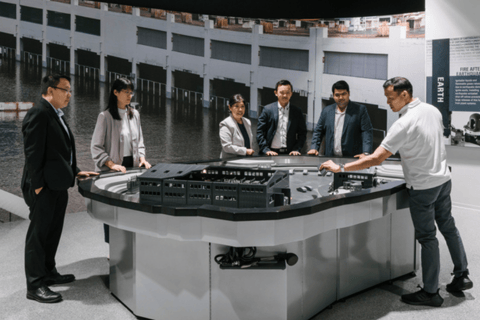 International property insurer FM Global opened its FM Global Center in Singapore earlier this month to give commercial property owners in the Asia-Pacific region a first-hand view of the various risks that can lead to property loss. provided an opportunity to learn about solutions to these risks.
The Empirical Risk Management Facility in Singapore is FM Global's third research center, following two in the northeastern United States. FM Global's center at the Singapore Science Park will focus on bringing its research, training and educational capabilities to the fast-growing Asia-Pacific region at risk from a range of natural hazards exacerbated by climate change. I'm putting
"[Asia-Pacific] James Thompson, Senior Vice President and Asia Pacific Division Manager, FM Global, said: "Looking at our exposure across the region, from tropical storms to flooding to massive hail to wildfires in Australia, and comparing it to the rest of the world, we can see how the climate in our part of the world is changing." We can see that the exposure to the Our aim is to develop climate resilience solutions that really resonate with the local market."
FM Global's Singapore Center is a six-storey, 125,000-square-foot facility with multiple interactive simulation labs and learning spaces to help visitors reduce risk and invest in engineering to prevent loss and deliver business value Helps you learn how. Some simulation labs focus on various natural disasters such as high wind events, floods, earthquakes, and how to prevent loss by improving your organization's climate resilience. Other labs will explore different parts of an industrial facility such as fire pumps, warehouses, electrical rooms, sprinkler systems, and the different risks and mitigations that exist in each.
The simulation utilizes augmented reality and allows visitors to learn about different risks and their implications with the help of technology. Flood tables allow visitors to interact with simulated floods and learn how different flood mitigation solutions can protect industrial sites. The center also has a hurricane simulation cannon that tests how different materials interact with debris blown by high winds.
According to FM Global's Asia Operations Manager, Tan Hian Hong, the company chose Singapore as the location for its Asia-Pacific center as it is a hub for business and learning in Southeast Asia, as well as a large number of transit visitors. Singapore is also located in an area that is not as exposed to typhoons and earthquakes as other countries in the region. This is what the FM global is telling the client. That means you need to not only ensure the resilience of your building, but also choose the right location for your business. .
Tan also said the Singapore center is applying what FM Global has learned about risk resilience. Given that the center is at the foot of a hill and rainwater runs off, a facility was built with a specially designed drainage system to prevent flooding. It also has double glazing with air conditioning that uses less energy to cool the building in Singapore's tropical climate, making the building more energy efficient.
"All the structures here are designed to FM global standards," Tan said. "We used FM certified materials that are flame retardant or non-combustible and environmentally friendly. It's part of it."
Property loss protection is especially important today, given the high potential for damage from climate change and the high cost of loss from rapid inflation, Thompson said.
"There's a lot of market research that points to more losses, and the losses themselves are getting bigger due to price inflation," Thompson said. "Today, it costs a lot more to put a factory back together than it did 12 months ago. So the financial risk that insurance companies face is significantly higher. Insurance companies can cover future losses. Prices have to rise because there is a need, which is a product of inflation and rising losses.Added to the fact that climate change seems to be getting more severe, insurers are pushing higher premiums. It is natural to expect that the costs will need to be covered by
Mr Thompson added that as an insurer, FM Global looks at how its customers implement their property and casualty insurance strategies, and this has a significant impact on premiums charged.
"Clients who are mitigating, who are managing risk wisely, will be priced preferentially because they are clearly better at risk," he said.