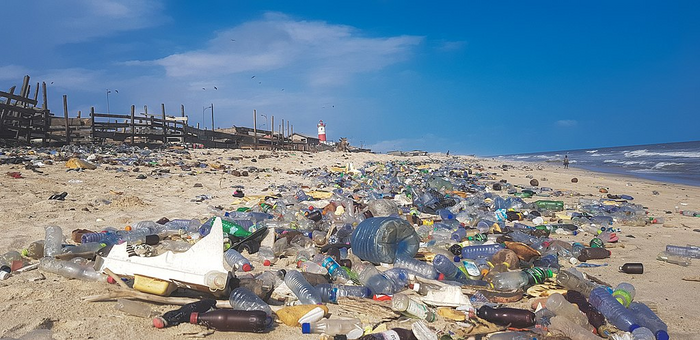 Durham, North Carolina – The planet is full of plastic. It litters our landscapes and waterways, floods landfills and increasingly threatens the health of people and the environment around the world.
It also contributes to climate change as most plastics are made from fossil fuels.
Bearing in mind rising public expectations of corporate responsibility, many companies have committed to reducing their plastic footprints.
But while 72% of the top 300 companies on the Fortune Global 500 list have taken some form of voluntary action to reduce plastic pollution, a new analysis by researchers at Duke University shows that virgin plastics Few companies make reducing their use a priority. According to her Zoie Diana, a PhD candidate at Duke University's Nicholas School of the Environment, this is the real root of the problem.
"Rather than plugging the plug at the source of the plastic, companies are looking to reduce downstream waste, such as including more recycled or potentially recyclable plastic in their products and slightly less plastic in packaging. We found that the focus was overwhelmingly on material reduction strategies, a practice known as weight reduction," said Diana, who led the study.
These sound like good approaches, she said, but they go to some extent. "If we produce more bags, bottles or containers at a time, even if the individual products are lighter and use less plastic, the result is not in a net reduction in plastic pollution."
Duke researchers published their peer-reviewed study on November 18 in the journal One Earth. As part of their analysis, they reviewed nearly 1,000 annual reports of the world's largest and most powerful companies.
Between 1950 and 2017, global plastic production increased 174-fold and is projected to double again by 2040, she noted. About 79% of the plastic waste generated by this production ends up in landfills or the environment. Only 9% has been recycled in the last 50 years, and only a tenth of that amount has been recycled.
"Very little of the plastic we put in our trash is actually recycled," said Diana. "Recycling only slows down the disposal and pollution of plastic. A comprehensive solution must target the production and use of virgin plastic."
The vague language used to describe some of the commitments to reducing pollution was also a red flag.
"Three-quarters of the world's 300 largest companies have made at least one commitment that is neither time bound nor measurable," said Diana. "There was no timeline, no deadline, no quantifiable way to measure progress."
There was also little recognition of the link between plastic production and climate change.
"The vast majority of companies found no relationship between reducing their carbon footprint and reducing their plastic footprint in their publicly available reports, especially with respect to reducing the production and use of virgin plastic. ' said Diana.
The United Nations Environment Council is working to enact an international plastics convention in 2024, and Diana hopes to cover virgin plastics. She also believes it's necessary to continue to scientifically scrutinize the plastic footprint of big companies.
"Scientists have a key role to play in monitoring and defining environmental issues and can help hold companies accountable," she said.
Diana's co-authors were Kelly Reilly, Rachel Karasik, Tibor Vegh, Amy Pickle, and John Virdin of Duke's Nicholas Institute for Energy, Environment & Sustainability. Eifang Wang, Zoe Wang, Lauren Dunn, Megan Dunphy Daly, and Daniel Litshoff at the Nicholas School of Duke University. Robert Blasiak of the Stockholm Resilience Center. Daniel Vermeer of the Fuqua School of Business at Duke University.
Funding was provided by the Pew Charitable Trust, The Oak Foundation, and the National Institute of Environmental Health Sciences, part of the National Institutes of Health.
Many of the authors of this paper work in ecotoxicology, business, medicine, public policy, bioinformatics, marine conservation, history, engineering, and chemistry — finding innovative solutions to plastic pollution.
Quote: "Voluntary commitments by the world's largest companies focus on plastics in general and recycling over other actions to address the plastic crisis", Zoie Diana, Kelly Reilly, Rachel Karasik, Tibor Vegh, Yifan Wng, Zoe Wang, Lauren Dunn, Robert Blasiak, Meagan M. Dunphy-Daly, Daniel Rittschof, Daniel Vermeer, Amy Pickle, John Virdin. One Earth, November 18, 2022. DOI: 10.1016/j.oneear.2022.10.008
###
---
Survey method
meta-analysis
Research theme
not applicable
article title
Voluntary commitments by the world's largest companies focus on plastics in general and recycling over other actions to address the plastic crisis.
Article publication date
November 18, 2022
COI statement
The authors declare no competing interests.
Disclaimer: AAAS and EurekAlert! EurekAlert! is not responsible for the accuracy of news releases posted. Use of information by contributors or via the EurekAlert system.